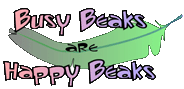 Stack the Deck
(on 10" Stainless Steel Skewer)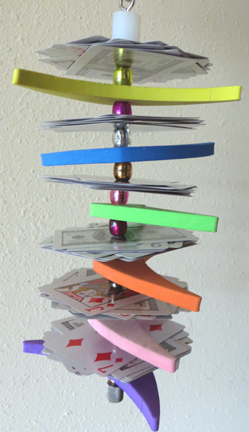 Stack the Deck is a fun, chewable, shredable toy built on a 10" stainless steel skewer and topped with quick link so you can rebuild or even use food on it. Since we are personally owned many companion parrots, we love extended life or refillable toys! Our birds love to shred ... and we've found that playing cards are a great way to diversify their chewing. There are 7 bundles (10 each) of stacked cards separated by large, heavy duty, reusable chunky barrel beads with thick, crescent shaped, colorful foam in between. This adds texture for your parrot's delight in shredding! When the skewer is empty, refill with more goodies like cardboard corrugated wrap, blocks, etc., and if you use it for food, please be sure to change it out daily!

Item #: 32070
Size: One Size (approx 12" Long x 5" Wide)
Price: $13.75
Note: Each toy is individually handmade in the USA, colors, styles, beads and charms may vary from photograph.
As with all toys, please monitor your pets and make sure they don't actually consume non-edibles!