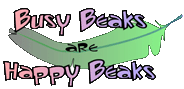 Cholla Loafa Skewer
(on 10" Stainless Steel Skewer)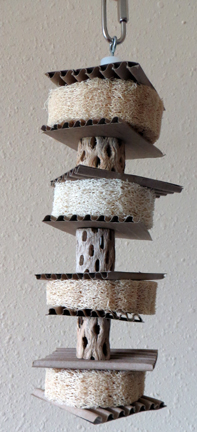 The Cholla Loafa Skewer is built on a 10" stainless steel skewer and topped with quick link so you can rebuild or even use food on it. Since we are personally owned many companion parrots, we love extended life or refillable toys! You can shove some nuts into the loafa to encourage foraging ... and our birds love to chew on the cholla and the cardboard corrugated wrap is always a hit in our house! Very inexpensive ... you should add to lots of toys to make the old seem new again! The Cholla Loafa Skewer is perfect for most parrots and the stainless steel skewer can be used time and time again! If you use it for food, please be sure to change it out daily!
Item #: 32056
Size: One Size (approx 12" Long x 5" Wide)
Price: $12.75
Note: Each toy is individually handmade in the USA, colors, styles, beads and charms may vary from photograph.
As with all toys, please monitor your pets and make sure they don't actually consume non-edibles!