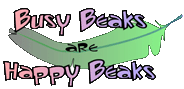 Mardi Gras

Show us your ... ummm ... beads!! The center of this toy is a fun, thinly sliced, naturally chewy slice of wood. There is lots of textures starting with a fun parropine/porcupine type chewy on top, half a dozen flower wheels in assorted colors, gear beads layered with ruffled and ruffled, jr beads, fancy tubes and and a couple dangling peanut pendants for movement and fun. There is ruffled, colorful paper to add to the beak pleasing fun. All metal in this toy is parrot safe, nickel plated ... pear shaped quick link, "O" rings and welded chain. This toy is good for most mid sized birds. Be sure to save the pieces so you can add them to one of your own MYOT (make your own toys) projects!
Item #: 32041
Size: One Size (approx 14.5" Long x 6" Wide)
Price: $6.75
Note: Each toy is individually handmade in the USA, colors, styles, beads and charms may vary from photograph.
As with all toys, please monitor your pets and make sure they don't actually consume non-edibles!