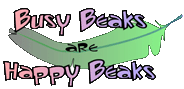 Third Time A Charm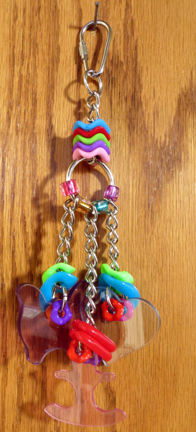 There is a lot of movement, motion and textures in the long lasting Third Time A Charm toy. All the metal is parrot friendly, nickel plated (chain, rings and pear link) which adds to it's durability. At the bottom of each "leg" is an acrylic charm with a couple petite ruffled beads for added beak pleasing fun. The legs also have some larger plastic, moveable pieces to add to the fun. At the top, there are several, fancy, acrylic cube bead in beads on the "O" ring and there are even some ruffled beads on top for added interest. Great for for those mid sized beaks in your house ... it has quickly become a favorite for our Goffin's Cockatoo. This is a heavy duty, long lasting toy for your feathered friend!
Item #: 32008
Size: 1 Size (9" L x 3.5" W)
Price: $11.75
Each toy is individually handmade in the USA, colors and charms may vary from photograph.
As with all toys, please monitor your pets and make sure they don't actually consume non-edibles!