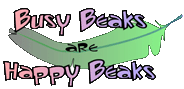 Busy Beaks Beads

Our parrots absolutely adore beaded toys ... so we went shopping and brought in a bunch of new beads. This toy is strung on a neon shoelace (simple loop on top so you can use your own quick links and keeps the cost down), double strands of beads that are joined every 7 beads or so to make it a bit more challenging to pop and take apart. Simply recycle those with more life and restring! For added beak teasing fun, we have a few "wonky" rings on each segment, which move over the rest of the beads. If your parrot loves beads, you should try this one!
Item #: 32006
Busy Beaks Beads

Size: 1 Size (18" L)

Price: $7.75

Item #: 32006x
Busy Beaks Beads (Holiday Version)

Size: 1 Size (18" L)

Price: $7.75
As with all toys, please monitor your pets and make sure they don't actually consume non-edibles!