Maraca Twins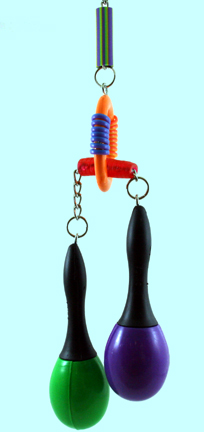 The Maraca Twins is a fun, push me pull me type toy. There are two 5-1/2" maracas hanging from a nickel plated chain through a rubber tube. There is a plastic 2-1/2" plastic ring that is wrapped with squiggles for extra beak pleasing fun. All this is hung from a nickel plated chain that has a foam tube over the top, topped with a nickel plated, pear shaped quick link for easy hanging. Great toy for the mid sized beaks in your house!
As with all toys, please monitor your pets and make sure they don't actually consume non-edibles!
Replacement Maracas available - click here!
Item #: 20051
Size: 15" L x 3-1/2" W
Price: $6.50