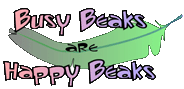 That's a Wrap!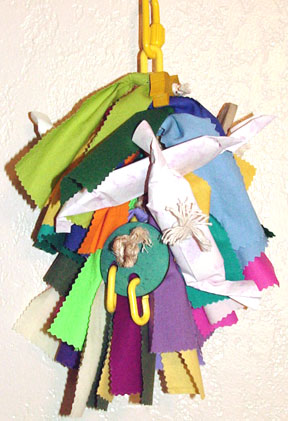 This toy was made especially for those pickers in your house! We have a lovely citron cockatoo, Lacy, who is a horrible feather picker. We made this toy for her and she gets under it, chews on it and in general spends lots of time with it! This has 28 pieces of 100% (washed to remove sizing) cotton fabric, knotted on plastic chain and through every link there's something hidden beneath the fabric. Some sisal with bamboo slats and bamboo wraps, 100% cotton rope that has bamboo and wraps attached, and also cotton cord with balls and spools and wooden piece it off. A nylon quick link is attached for easy hanging, and there's nothing in this toy that is metal so there's no problem with metal toxicity. So if you have a bird that picks, you might want to add this to your toy box!

As with all toys that have rope, sisal, fabric and curly laces, PLEASE be sure to
check the toy daily for frayed edges and keep it (and your parrot's nails) well trimmed.

Item #: 11110
Size: 1 Size (14" x 9")
Price: $19.50